lemony salmon
inspired by this recipe, i made my version of baked salmon with the little "umbrella mushrooms" are what we call them, with lots of lemon (i love lemons!), butter and thyme…
i think the salmon was a little bit overbaked, as i was not very confident with the freshness of the fish, after much convoluted transit from the supermarket to the office (it has become a habit of mine to visit the supermarket on the way to work after i put down the children in their school), and then back to home after work, and after that, having been stored in the freezer for a few more days.  it would have tasted better if the inside was left slightly raw.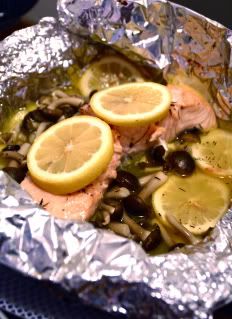 but i can tell you the citrus taste of it is devine.  and the butter worked its magic of course.  we liked it that night, with rice.  a quick, yummy summer dish.
~~~~~~*~~~*~~~*~~~~~~
i am loving the whiteness of this blog.  this site, and the flowers, are so beautiful.
the new issue of come home.  looking to forward to read it.
finally got some rice dumpling leaves yesterday.  wish me luck!