the craft market I
the craft market yesterday was quite an experience.  i was the very last crafty vendor to arrive, after dropping off the babies at my sister's house.  aileen helped me set up the table beside hers.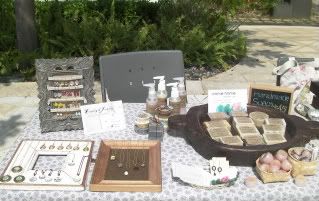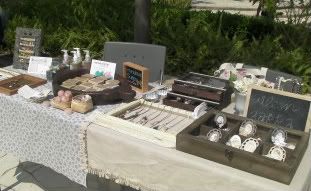 our table was at the worst spot where there was no shade from the sun.  we could hardly open our eyes without the hats and the umbrella which mr candlelight went to get for us.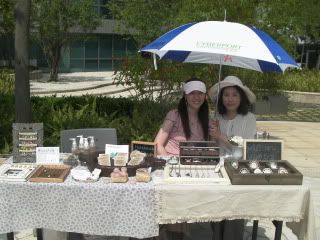 luckily the sun gradully moved away from us as the day progressed.  both of us were so hot and sweaty as if we were melting.
closeups on the earrings, necklaces and the soaps: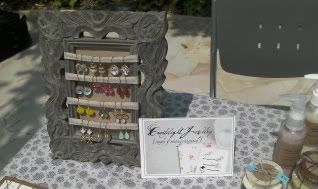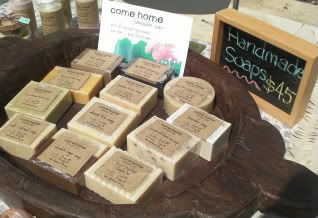 i decided that i was not going to use that earring display because of the space it would take up on the small table.  i found this raw, indian-made wooden serving tray the day before and thought it would be perfect for displaying the soaps.
later in the day, the babies came to visit me for a short while before they went home for their afternoon nap.  i am grateful for their support (even though they were not aware of it), the generous help from my sister who kept me company all day and took care of the money.  thank you also, aileen, for being my crafty neighbour.  her creations were all so lovely.  thank you, mr candlelight, for keeping an eye on the babies and buying me lunch and drinks.  and thanks for all the friends and colleagues who came all the way to visit and support me.   all the customers and people whom i got to talk to and share my experience on jewelry and soap making, thank you!
it was a fun filled day and the business was quite good.  but it was indeed very tiring.  i think i have literally maxed out my energy on all the preparation, selling, etc.  i wish i could take some rest, but mr candlelight is coming down with a flu and siu momo seems to be coughing more.  i could foresee i would be quite busy and physically demanded for quite some time.